Global Intellectual Property (IP) Transactions and Litigation
The team at Panitch Schwarze wishes you Happy Holidays and a novel New Year! From our Zoom to yours, we appreciate the virtual connections we've been able to make with our colleagues and clients this year.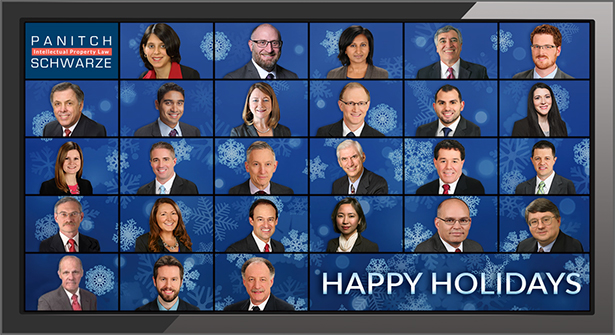 From left to right:

Sandra M. Katz, Ph.D., Travis W. Bliss, Ph.D., Bijal Shah-Creamer, Philip L. Hirschhorn, Keith A. Jones

Richard A Woldin, Ph.D., N/A, Erin M. Dunston, Clark A. Jablon, Ragi A.I. Elias, Stephany G. Small, Ph.D.

Bridget H. Labutta, John D. Simmons, Williams W. Schwarze, Ronald L. Panitch, Martin G. Belisario, Dennis J. Butler

Jeffrey W. Gluck, Ph.D., Krista Hart, Lars H. Genieser, Ph.D., Miki Yamaguchi, Ronald J. Ventola, Leslie L. Kasten Jr.

Jeffrey K. Sherwood, Stephen E. Murray, Alan S. Nadel
Find out more about our attorneys and professional staff here.

Two Commerce Square, 2001 Market Street, Suite 2800, Philadelphia, PA 19103 // (215) 965-1330
Wells Fargo Tower, 2200 Concord Pike, Suite 201, Wilmington, DE 19803 // (302) 394-6030
Copyright © Panitch Schwarze Belisario & Nadel LLP

Panitch Schwarze Belisario & Nadel LLP is a premier intellectual property law firm based in Philadelphia, Pa and Wilmington, De. The firm provides individuals with intellectual property and trademark law legal counsel and representation in copyrights, IP protection, licensing, litigation, patents, trade secrets, trademarks and related matters. The firm prides itself on leadership within the profession and a strong record of success.

In some states, this correspondence may be considered attorney advertising. Transmission of this document is not intended to create, and receipt does not establish, an attorney-client relationship. This newsletter is intended for informational purposes only and should not be construed as legal advice on any subject matter. The contents of the email do not necessarily represent the opinions of Panitch Schwarze Belisario & Nadel LLP or its clients. If you require legal advice, you should retain competent legal counsel to advise you. If you would like to retain Panitch Schwarze Belisario & Nadel LLP, please contact one of our lawyers, who will be pleased to discuss how our firm can assist you. An attorney-client relationship will arise between you and our firm only if we specifically agree to act for you. Unless and until we specifically agree to act for you on a matter, you should not provide us with any confidential information or material.